IN RESPONSE TO FEDERAL GUIDELINES AND RECOMMENDATIONS ISSUED MONDAY MARCH 16, 2020.
Please be aware that there are many scams targeting bank customers using the COVID-19 virus and the fear surrounding it. Scammers will use this fear and uncertainty to obtain your financial information. If you are contacted by anyone claiming to be representing the bank, the FDIC, or any other entity please do not give them any information and report the scam to the bank by calling 903-783-3800. Please click on the link below to read the FDIC press release concerning these scams.
FDIC: Insured Bank Deposits are Safe; Beware of Potential Scams Using the Agency's Name
We also ask that the click on the image below to visit the Federal Trade Commission website for more information about the COVID-19 virus and financial scams.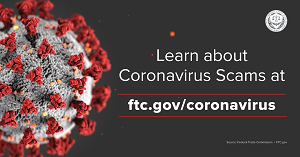 We will continue to provide updates on our website www.pbparis.com as the situation changes.
We sincerely appreciate your patience and cooperation during these difficult times.